HISTORIC EAST SIDE SUITES
Meeder Development Corporation is proud of the transformation it has done with the once forgotten spaces on the 100 block of East King Street, dating back to 1859. The age of these buildings is a great thing because they were originally constructed in such a way that noise is virtually impassable through walls and floors.
The Historic East Side is several buildings with over 43,000 square feet of space. It includes 17 upper level market rate apartments that range in size from 1,655 to 1,955 feet. The apartments feature granite countertops, hardwood floors, spacious indoor and outdoor living spaces, on-site parking and each unit has a unique floor plan
The Historic East Side also has seven retail stores on King Street and office space anchored by Moxie House.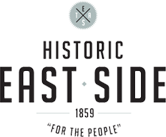 SUITES:
Second floor office suites
On-site parking
Open layout concept
RESIDENCIES:
17 Unique Luxury Apartments
Hardwood Floors
Granite Countertops
Outdoor Decks
On-site Parking
MERCHANT ROW:
Seven historically renovated retail storefronts – a new downtown shopping district
Retained character defining original features
Storefront sizes range from 388 sq ft to 1,536 sq ft
Modern amenities.